5 Types of General Business Vacuums: Which is Best For Your Facility?
When it comes to business vacuums, they can represent between 15-25% of the total cleaning cost of your building. In most facilities, vacuuming is completed daily to remove abrasive soils and keep your facility looking great, but it also takes up a lot of your time and money. According to a study completed by the American Institute of Cleaning Sciences, the average commercial cleaning worker uses a vacuum for approximately 1-3 hours per day.
With such a large amount of time and money spent on one cleaning procedure, it is critical that you are using the most efficient vacuum for each problem area.
Utilizing the best vacuum in your facility can increase worker productivity, lower cleaning times, and reduce overall cleaning costs.
In this blog article, we will go over the 5 major types of commercial vacuum cleaners and some of the available features to help you make the best choice for your business.
5 Common Types of Business Vacuums:
Handheld Duster Vacuum Cleaner
Canister Vacuum Cleaner
Upright Vacuum Cleaner
Backpack Vacuum Cleaner
Wet/Dry Vacuum Cleaner
Types of Business Vacuums
Vacuum cleaners are pieces of janitorial cleaning equipment that come in several different shapes and sizes to tackle different problems like spot cleaning or wet residue pick-up. Determining the best vacuum will depend on the area, soil, and the level of traffic you are dealing with.
1. Handheld Duster Vacuum
Handheld duster vacuums are small portable machines used for spot cleaning.
They are available in cord-electric or battery powered models.
What Type of Area Should a Handheld Duster Vacuum be Used to Clean?
These vacuums can be used to quickly remove small messes from the floor, blinds, chairs, stairs, and upholstery.
Handheld duster vacuums are convenient for spot cleaning in high traffic areas.
Soil Type – Handheld dusters should only be used in small areas requiring light soil pickup.
2. Canister Vacuum
Canister vacuums have wheels at the bottom of the base allowing them to be easily transferred from one floor surface to the next.
For easy maneuverability choose a canister vacuum with fully-directional front wheels to eliminate drag.
Canister vacuums are typically cord-electric.
What Type of Area Should a Commercial Canister Vacuum be Used to Clean?
Canister vacuums are great for cleaning hard floors, carpeted floors, fixtures, and drapes.
They are also useful when dealing with multiple cleaning tasks that require specialized attachments, like extended length hoses and wands.
As far as business vacuums go, canister types are not the best choice for high-traffic areas. They have long cords and hoses which can be a tripping hazard to guests.
Soil Type – Canister vacuums are good option when removing large soils.
3. Upright Vacuum
Upright vacuums are vertical standing machines with wheels and a brush roll on the bottom and a bag for soil collection on top.
They are typically cord-electric, but can be battery powered.
What Type of Area Should a Commercial Upright Vacuum be Used to Clean?
Upright vacuums are the best choice for carpeted floors.
Some upright vacuums have a pick-up head that can be adjusted to allow you to toggle back and forth between carpeted and hard floors.
Soil Type – Upright vacuums can be used for light to medium soil pickup.
There are two types of upright vacuums: single motor and dual motor.
SINGLE MOTOR
Single motor vacuums are great for pickup of light to medium soils.
DUAL MOTOR
Dual motors have a separate motor for the brush roll. They are designed for medium soil pickup.
4. Backpack Vacuum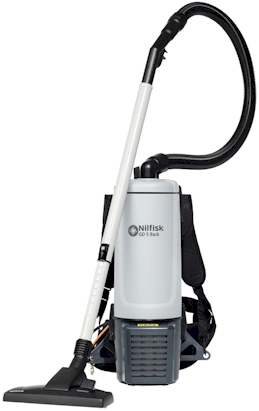 Carried on the back of the operator, backpack vacuums allow for unrestricted movement in confined or congested areas.
Newer backpack models are lightweight and ergonomic, reducing user fatigue and increasing efficiency and productivity.
Backpack vacuums can be battery operated or cord-electric.
What Type of Area Should a Commercial Backpack Vacuum be Used to Clean?
Backpack vacuums are extremely portable and lightweight, making them the best choice when dealing with stairs or landings. They can also be a great choice for carpeted or hard floor surfaces.
Backpack vacuums are a great option for high traffic or congested areas. They also allow for easy maneuverability, especially in hard to reach areas.
Soil Type – Similar to upright vacuums, they can be used for light to medium soil pickup.
5. Wet/Dry Business Vacuum
When dealing with areas that are wet, only use a vacuum which is specifically intended for wet residue pickup. These vacuums are designed to allow the liquid to bypass the motor, avoiding vacuum damage and potential injury to the user.
The most common commercial wet vacuums have a 16-20 gallon capacity.
Wet/dry vacuums can be battery operated or cord-electric.
There are two types of wet/dry vacuums: standard wet with hose and wand or the front-mounted squeegee.
STANDARD WET VACUUM – The standard wet vacuum has a hose and wand that sucks up the liquid. They perform best in tight areas.
FRONT MOUNTED SQUEEGEE – The front mounted squeegee is the best choice when removing the solution from cleaning procedures like mopping or hard floor stripping.
What Type of Area Should a Commercial Wet/Dry Vacuum be Used to Clean?
Wet/dry vacuums can be used for soil removal on carpeted or hard floors.
If you are dealing with wet soil pick-up, block off the area to tenants and guests to avoid slips and falls.
Soil Type – Wet/dry vacuums are excellent for removing leftover water or cleaning solution from cleaning procedures such as scrubbing or wet mopping.
You can also use a wet/dry vacuum when dealing with larger, dry soils.
Pro Tip: To use a wet/dry vacuum for dry soil pickup make sure you insert the dust filter.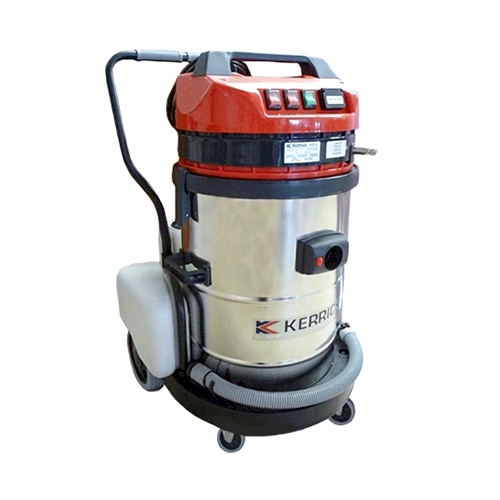 Vacuum Features:
When choosing a vacuum of any type, check to see which additional features are available for your model. Below we list some additional features that can improve the quality of the machine, increase worker productivity, and provide a better cleaning outcome.
Selecting business vacuums that are high performing and safe for the environment will ultimately benefit occupant health and your business' bottom line.
HEPA Filter
High-Efficiency Particulate Air or HEPA filters trap 99.97% of all airborne particles larger than 3 microns. HEPA filters contain and do not recirculate small particles such as dust and dander that can cause health issues to your occupants.
Sound Level
The sound level of a vacuum is important if your facility requires maintenance during regular business hours.
A decibel output between 57-62 dBA is considered low and can be operated during the day without disturbing building occupants.
Attachments
Depending on the model type and brand, various attachments are available. Attachment tools make it easier to complete cleaning tasks with the same commercial vacuum.
Some attachments include hose extensions, crevice tools, and upholstery tools.
Power Source
Vacuums are either battery operated or cord-electric. Determining whether you should choose a cord-electric or battery-operated vacuum is ultimately your choice, but each can be effective if used properly.
Battery Operated (Cordless)
Cordless vacuums offer exceptional maneuverability and efficiency as a result of not having to plug and unplug the machine. Cordless backpack vacuums can increase efficiencies by saving approximately 1-1.5 hours per 4 hour vacuum shift.
Cordless vacuums can also reduce the risk of workplace trips and falls.
At the time of this writing, the average battery-life for a commercial cordless vacuum is about 1 hour.
Business vacuums that are cordless typically more expensive than corded vacuums but will provide increased time and labor savings.
Cord-Electric
Corded vacuums can offer longer cleaning times and increased power when compared to a battery operated machine.
Pro Tip: To increase productivity with a corded vacuum, determine the best vacuuming path for the area before beginning. A clear path will reduce cleaning time and promote efficiency. The best route will minimize the number of times you have to move the power cord to a new outlet.
Reducing the number of times you have to plug and unplug a power cord lowers the risk of equipment, furniture or fixture damage. Failing to properly move cords may also cause the operator to run over the cord, causing damage to cords.
Final Thoughts
Whether you are spot cleaning or removing slurry from a wet-mopping procedure, selecting the best vacuum will make your job easier and help you produce better results.
Understanding which business vacuums is the best option for the area and soil you are dealing with can be challenging. If you have specific questions about a vacuum or are still not sure about which vacuum will work best for your situation, let a South Pacific Vacuums specialist help.
The team at South Pacific Vacuums has been a leading provider of commercial cleaning solutions for over 20 years, and we offer a variety of commercial cleaning supplies and cleaning equipment to support your business needs, wants, and budget.
---
Contact us about Business Vacuums today!
Call our Auckland Office on +64 9 520 20 30, Wellington Office +64 4 234 1020 or use the contact form below:
Like most businesses we're social – you can follow us on: Facebook, Instagram, LinkedIn, Twitter
Follow us and we'll follow you, now that's social.
---