SkyVac Atom Sonic – With High Reach Poles

2800W – Super-Sized. Super-Charged. Super-Sonic!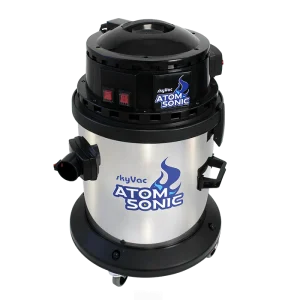 SkyVac Atom Sonic is a powerful, portable, and cordless gutter cleaning tool that uses advanced sonic technology to blast away dirt, debris, and blockages from gutters and downpipes. It is designed to make the process of gutter cleaning faster, safer, and more efficient, especially for hard-to-reach areas.
Overall, SkyVac Atom Sonic is an innovative and effective tool for cleaning gutters that offers a range of benefits to users, making it a worthwhile investment for anyone who needs to maintain their gutters and keep them free from blockages.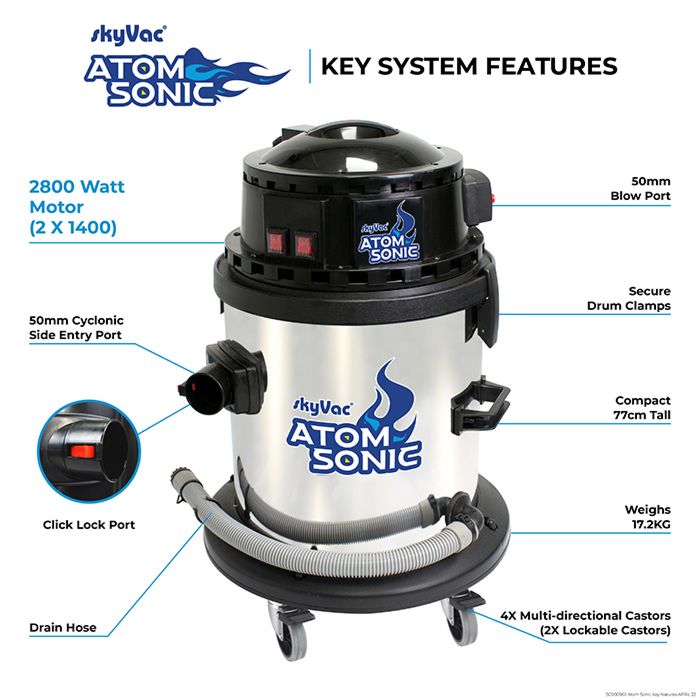 5 Good Reasons to buy the SkyVac ATOM Sonic
Powerful cleaning: SkyVac Atom Sonic uses advanced sonic technology to generate powerful waves of energy that dislodge and remove even the toughest dirt, debris, and blockages from gutters and downpipes.
Portable and cordless: The compact and lightweight design of the SkyVac Atom Sonic makes it easy to carry around and use, without the need for cords or power outlets.
Safe and easy to use: With no need for ladders or scaffolding, using SkyVac Atom Sonic is a safe and easy way to clean gutters, especially in high or difficult-to-reach areas.
Time-saving: The powerful cleaning action of SkyVac Atom Sonic means that gutters can be cleaned quickly and efficiently, saving time and effort.
Versatile: SkyVac Atom Sonic can be used to clean gutters and downpipes of all shapes and sizes, making it a versatile tool for homeowners, maintenance professionals, and cleaning companies.
skyVac® Atom Sonic Machine Specifications:
2800 Watt (2 x 1400 Watt) double stage motors
240V mains powered wet and dry vacuum
110 Inches of Water Lift – ideal for everyday gutter cleaning projects.
7,166 Litres Per Minute Air Flow – for powerful dust and debris removal
Cyclonic 50mm side entry port – with easy click lock vac to hose attachment
50mm Blow port – for leaf blowing
Drain hose – for easy water removal
Curved steel filter protection plate – guides debris around the drum, as well as acting as a stand for the vac head.
17.2kg in weight (Vac Head:10.7kg / Drum Weight: 6.5kg)
45 Litre steel drum
74DB
4 multidirectional castor wheels – 2 lockable
Dimensions: L48 W48 H78mm
5M of 50mm wire reinforced 50mm suction hose – minimise kinks
8M power cable
skyVac® Clamped Pole & Tools & Accessories: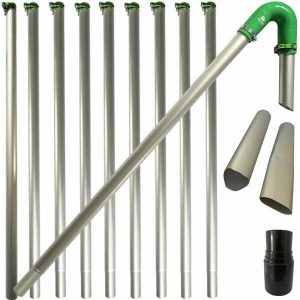 50mm clamped carbon fibre hybrid suction pole
1 x skyVac® Elite Vac Release Pole
1 x skyVac®Elite Hairpin tool holder
5m x 50mm Wire reinforced suction hose
2 x Cuff: 1 Vac to Hose cuff 50-50 / 1x Hose to Pole 50-50 Cuff.
5 x Elite Tools: Aluminium Long end tool / Dual End Multi Tool / Aluminium Tapered end tool / Long soft tool / Aluminium Crevice end tool
skyVac® branded pole and tool kit carry case
Floor Tool kit:
2.5M of 38mm standard flexi-hose with 50mm Vac to port cuff
1 x Handle: 2 x aluminium/plastic tubes / 1 x plastic bend end tool holder
3 Brush Heads: 1x wet floor brush / 1 x dry floor brush / 1 x carpet floor brush
2 x SkyVac Van Sticker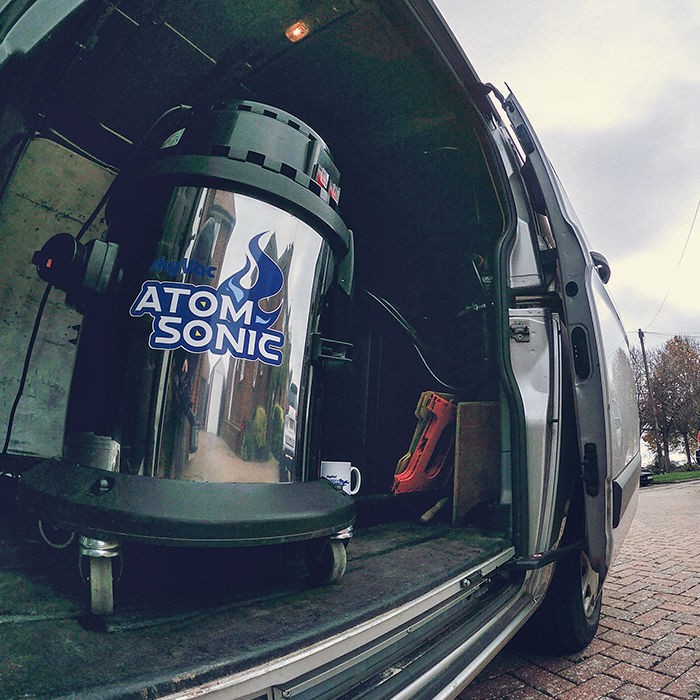 Disclaimer – product images used may differ slightly from what's supplied in the box. Please ask us for a complete product list and or product brochure before ordering.
---
Contact Us about the SkyVac Atom Sonic
Call our Auckland Office on +64 9 520 20 30, Wellington Office +64 4 234 1020 or use the contact form below:
Like most businesses we're social – you can follow us on: Facebook, Instagram, LinkedIn, Twitter
Follow us and we'll follow you, now that's social.