SkyVac Atom Sonic 2 Motor – With High Reach Carbon Fibre Poles

2800W – Super-Sized. Super-Charged. Super-Sonic!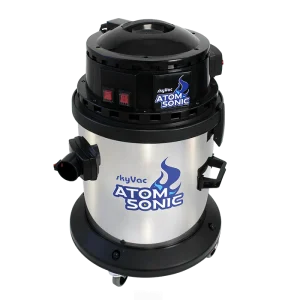 SkyVac Atom Sonic is a powerful, portable, gutter cleaning machine that uses advanced technology to vacuum away dirt, debris, and blockages from gutters and downpipes. It also has a blow feature allowing gutters with dry leaves to be blasted away. It is designed to make the process of gutter cleaning faster, safer, and more efficient, especially for hard-to-reach areas.
Overall, SkyVac Atom Sonic is an innovative and effective tool for cleaning gutters that offers a range of benefits to users, making it a worthwhile investment for anyone who needs to maintain their gutters and keep them free from blockages.
A camera package can also be add to this machine giving full view of gutters from ground level.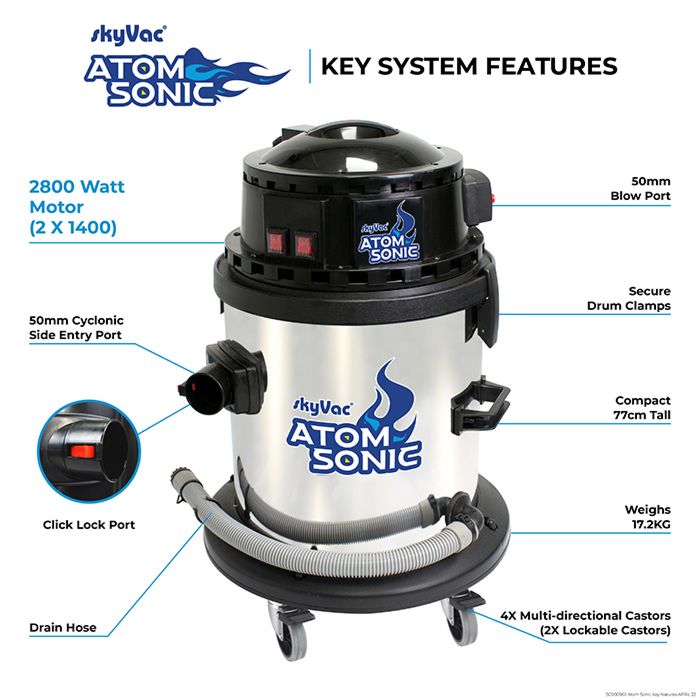 5 Good Reasons to buy the SkyVac ATOM Sonic
Powerful cleaning: SkyVac Atom Sonic has 2 powerful motors, tangential intake eliminating blockages.
Portable: The compact and lightweight design of the SkyVac Atom Sonic makes it easy to carry around and use.
Safe and easy to use: With no need for ladders or scaffolding, using SkyVac Atom Sonic is a safe and easy way to clean gutters, especially in high or difficult-to-reach areas.
Time-saving: The powerful cleaning action of SkyVac Atom Sonic means that gutters can be cleaned quickly and efficiently, saving time and effort.
Versatile: SkyVac Atom Sonic can be used to clean gutters and downpipes of all shapes and sizes, making it a versatile tool for homeowners, maintenance professionals, and cleaning companies.
skyVac® Atom Sonic Machine Specifications:
2800 Watt (2 x 1400 Watt) double stage motors
240V mains powered wet and dry vacuum
110 Inches of Water Lift – ideal for everyday gutter cleaning projects.
7,166 Litres Per Minute Air Flow – for powerful dust and debris removal
Cyclonic 50mm side entry port – with easy click lock vac to hose attachment
50mm Blow port – for leaf blowing
Drain hose – for easy water removal
Curved steel filter protection plate – guides debris around the drum, as well as acting as a stand for the vac head.
17.2kg in weight (Vac Head:10.7kg / Drum Weight: 6.5kg)
45 Litre steel drum
74DB
4 multidirectional castor wheels – 2 lockable
Dimensions: L48 W48 H78mm
2.5M of 50mm wire reinforced 50mm suction hose – minimise kinks
8M power cable
Included in Standard kit:
Sonic 2 motor vacuum
2.5M 50mm vacuum Hose
4 x 1.5M 45mm Carbon fibre push fit poles
Cuffs and Accessories
Crevis tool
Gulper tool
Alloy tool
Carry bag for poles and accessories
Also available the new 50mm carbon pole sets
skyVac® Clamped Pole, Tools & Accessories:
50mm clamped carbon fibre hybrid suction pole
1 x skyVac® Elite Vac Release Pole
1 x skyVac®Elite Hairpin tool holder
5m x 50mm Wire reinforced suction hose
2 x Cuff: 1 Vac to Hose cuff 50-50 / 1x Hose to Pole 50-50 Cuff.
5 x Elite Tools: Aluminium Long end tool / Dual End Multi Tool / Aluminium Tapered end tool / Long soft tool / Aluminium Crevice end tool
skyVac® branded pole and tool kit carry case
Floor Tool kit also available:
2.5M of 38mm standard flexi-hose with 50mm Vac to port cuff
1 x Handle: 2 x aluminium/plastic tubes / 1 x plastic bend end tool holder
3 Brush Heads: 1x wet floor brush / 1 x dry floor brush / 1 x carpet floor brush
2 x SkyVac Van Sticker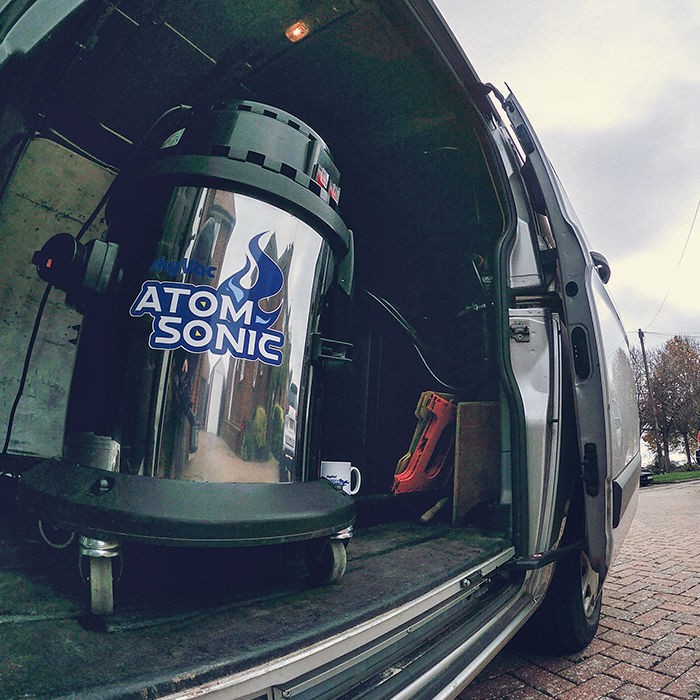 Disclaimer – product images used may differ slightly from what's supplied in the box. Please ask us for a complete product list and or product brochure before ordering.
---
Contact Us about the SkyVac Atom Sonic
Call our Auckland Office on +64 9 520 20 30, Wellington Office +64 4 234 1020 or use the contact form below:
Like most businesses we're social – you can follow us on: Facebook, Instagram, LinkedIn, Twitter
Follow us and we'll follow you, now that's social.