Vax Backpack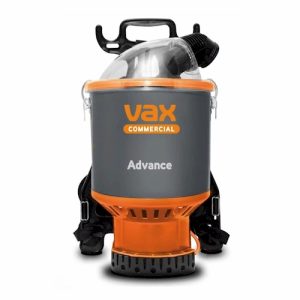 The Vax backpack VXCB-01 by design, competes equally with other market leading brand backpacks. This Advance model has utilised the time-proven powerful 1300w motor and hi-flow filter to result in high levels of suction, to deliver a quality performance at an economical price point.
Excellent pick up on carpets and hard floors
Up to 3x more productivity compared to a barrel vacuum
40 ltr/sec volumetric airflow
Ultra lightweight – only 3.8 kgs
18-metre high visibility cable
Large 5.0 ltr bag capacity
3 Year Commercial Warranty
Bag-less Redbag accessory available
Specifications
| | |
| --- | --- |
| Weight | 3.8 kg |
| Power | 1300W |
| Guarantee | 3 years |
| | |
| --- | --- |
| Air Watts | No |
| Capacity | 5.0 litres |
| Cord Length | 18 metres |
| Filters | 4 Stage Hi-flow |
| Hose | 1.2 metres |
| Model # | VXCB-01 |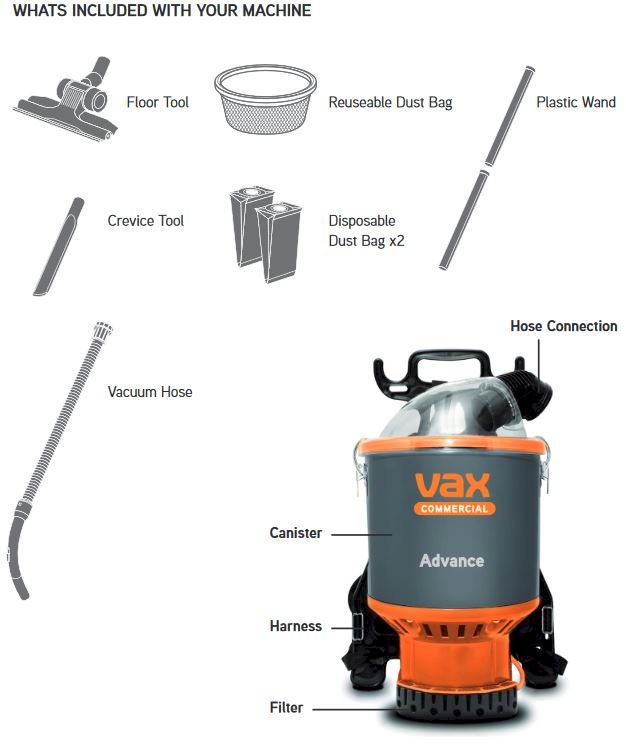 Commercial or at Home
If you've never owned one, you've most probably seen them being used at a hotel, departmental store or any other business.
Vax backpack vacuums are versatile, powerful, and highly mobile cleaning machines. In spite of them typically being marketed as suited for commercial places, you can use a Vax backpack vacuum anywhere. In your home, they will clean faster and more comfortably than the conventional units. Because you wear them on your back, you can vacuum for extended periods as well as clean every part of your home. The hard-to-reach areas will be a breeze to vacuum, plus tasks won't tire you as much as they do when using your regular vacuum.
Overall backpack vacuums have been around for quite some time. Their features have been improving over the years, with manufacturers focusing on increasing their suction power while making them more compact. As a result, the Vax backpack vacuum today is a power-packed machine that's small-sized and weighs less than what you would imagine. Many of the popular manufacturers are also making these types of vacuums as more and more homeowners embrace the efficiency and versatility of cleaning with a vacuum you can wear on your back.
Contact us today to find out more information on these products.
Like most businesses we're social – you can follow us on: Facebook, Instagram, LinkedIn, Twitter
Follow us and we'll follow you, now that's social.