BV11 – Two in One cleaning gun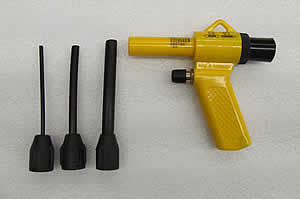 Whenever high-powered industrial vacuum cleaning or precise air pressure cleaning is required. The BV11 connects directly to your airline and can be used for a wide range of industrial clean-up jobs, including:
On Vacuum Mode:
Metal filings from around machines
Ceramicdust
Dust from around equipment such as computers and electrical machinery
Lint and thread from industrial sewing machines, sawdust
Food crumbs and spilt powders
Fluids and textiles from all working machinery.
The classic user would be food-processing manufacturers for the removal of coffee, tea, sugar etc.

On Blower Mode:
The BV11 produces a much higher velocity than the BV22.
It is an excellent tool to be used for blow cleaning machine tools such as lathes, drills, milling machines, power saws, etc.
It can also be used to provide cooling for a number of industrial and manufacturing processes.
Also as an aid to combustion.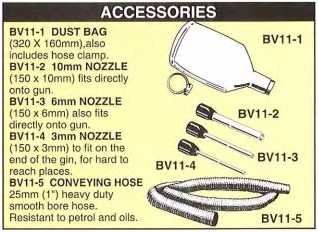 Download the BV 11 brochure for more information
BV11 D/H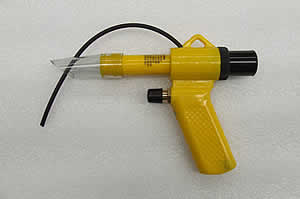 Removes metal chips from dead-end holes by blowing and sucking simultaneously.
The BV11 D/H was specially designed with the number one feature being eye safety. The industry currently uses conventional air blowguns to remove metal chips from dead-end holes, the end result is that the chip is virtually moved from hole to hole and not removed completely.
It is designed to blow the chip up and vacuum it away simultaneously. The BV11 D/H was ideally designed for smaller applications in hard to get at places.
Efficient and safe, it handles industry's more precise cleanup jobs ideally used in the electronics industry and other detailed manufacturers.
Made from Nylon 6 grade material and powered by compressed air, it develops a spiral airflow which allows materials to be conveyed over long distances.

Download the BV 11 D/H brochure for more information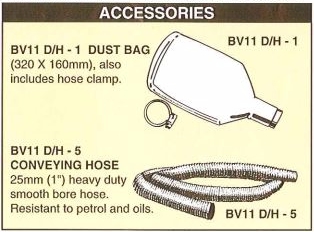 Blovac Range
---
Contact Us about this Product/Range
Call our Auckland Office on +64 9 520 20 30, Wellington Office +64 4 234 1020 or use the contact form below:
Like most businesses we're social – you can follow us on: Facebook, Instagram, LinkedIn, Twitter
Follow us and we'll follow you, now that's social.