SkyVac Interceptor
After years of extensive research, we are proud to launch of the latest innovation in high level cleaning, the SkyVac Interceptor. The all in one system is the first portable gutter-cleaning machine with an on-board power unit, removing the need for separate generators.
Featuring the world's most powerful gutter cleaning system, SkyVac™ 85, a reliable Honda power pack and unique interlocking trolley system – this system significantly reduces energy consumption as well as making transportation easy.
The Most Advanced Portable Fully Independent Gutter Vacuuming System Available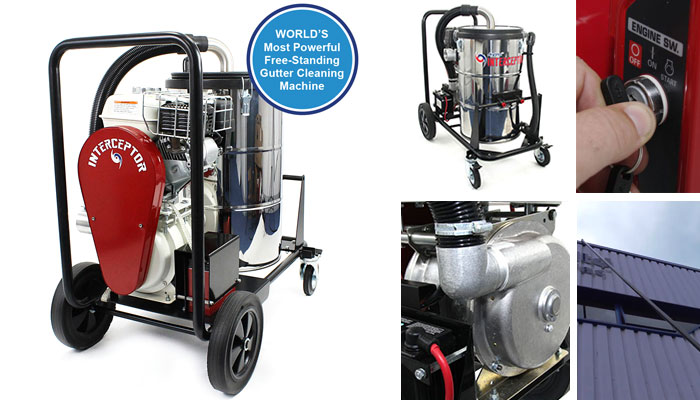 SkyVac Interceptor
A Global First. A Portable Gutter Cleaning System with On-Board Power Unit
SkyVac Interceptor Package Includes
SkyVac Interceptor
SkyVac Elite Suction Poles (your choice)
1 x SkyVac Vac Release Pole (as part of pole package)
Carbon Fibre Tool Holder
5x End Tools
6m Flexi Hose (50mm diameter)
Suction Pole Carry Bag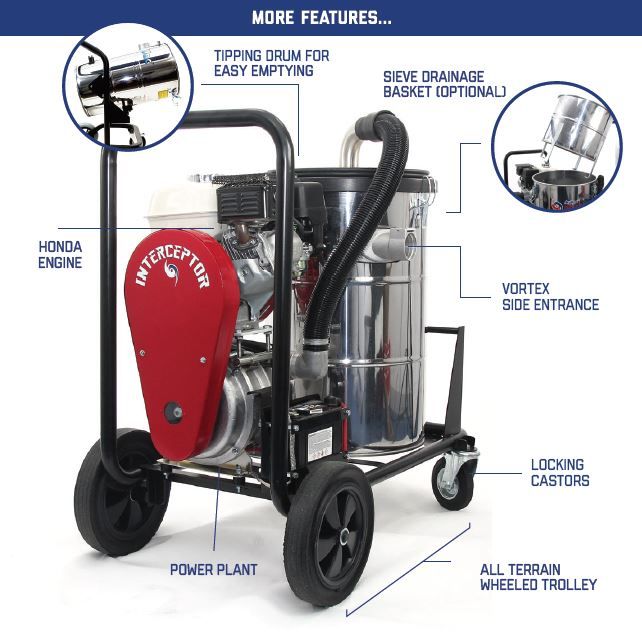 Product Features
Sitting on a robust all terrain multi directional trolley, the SkyVac Interceptor features an on-board power plant making it completely independent of any electrical supply requirements. The Worldwide compliant Honda Engine, with its sleek design enables you to access areas on a project, which are usually inaccessible.
With an extremely powerful vacuum capacity, this unique system will lift and remove the heaviest of waste matter from gutters up to 40ft from the ground, with the added addition of a blow feature to aid cleaning and self-un-blocking.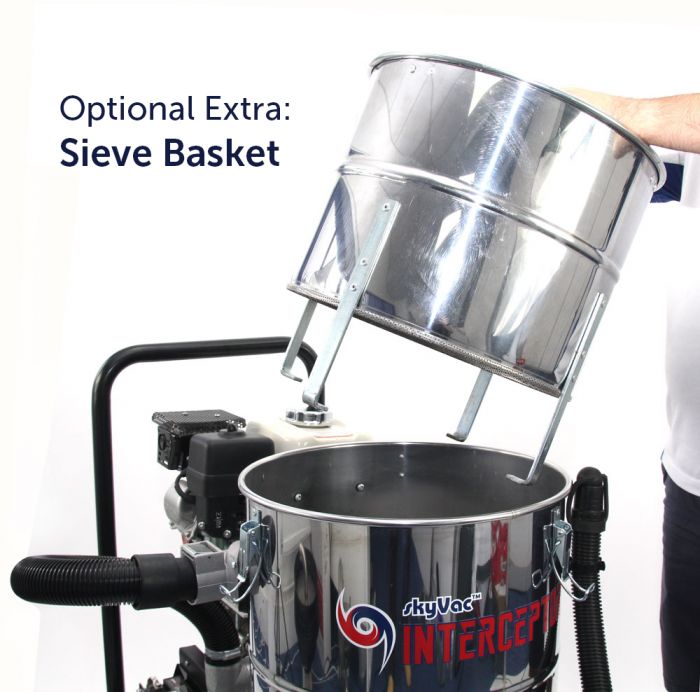 Additional Features Include
Tipping drum for easy emptying
Robust all terrain trolley with locking wheel castors
Side load vortex vacuum port entrance
Blow function feature
Sieve Drainage Basket with Drain Hose (Optional)
Key Start (Optional)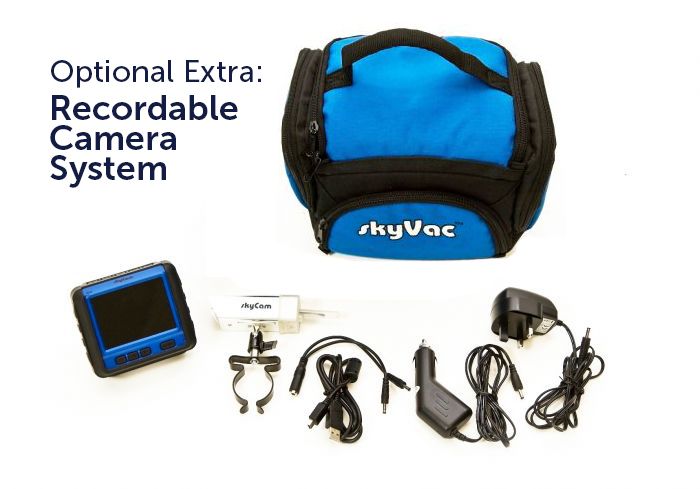 Included as Standard
SkyVac Interceptor
SkyVac Elite Suction Poles (your choice)
Carbon Fibre Tool Holder
5x End Tools
6m Flexi Hose (50mm diameter)
Suction Pole Carry Bag
Optional Extras
Sieve Basket: For collecting sediment and collecting water
SkyCam Wireless Camera: View out of reach gutters and high level areas with SkyCam
Robust Construction
Water Proof Monitor and Camera ← exclusive to SkyCam™
Rubberized Drop Proof Protective Jacket ← exclusive to SkyCam™
Unique Zoom Facility ← exclusive to SkyCam™
On-Board Recording
New Charging Facility Allows You To Charge Both Monitor and Camera Simultaneously
Easy User Large Operational Buttons
Telescopic Ramps
Telescopic ramps will have you set up and packing away in no time. With an adjustable length and sturdy grip surface, you can transport your Interceptor with ease.
Specifications:
5.5hp Honda Engine (Equivalent Wattage 3600 watts)
155″ Inch water lift
Air Movement 8000 Litres Per Minute
90 Litre Drum
Weight Pull Start 78kg Key Start 87kg
Decibel Level 107
L x W x H (mm): 1,400 x 630 x 1,045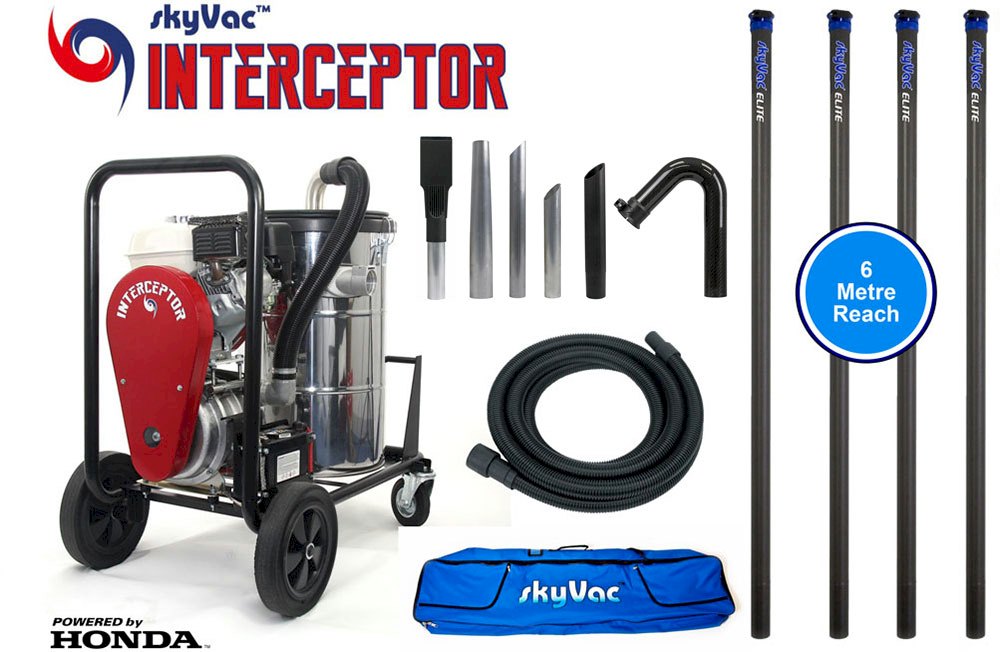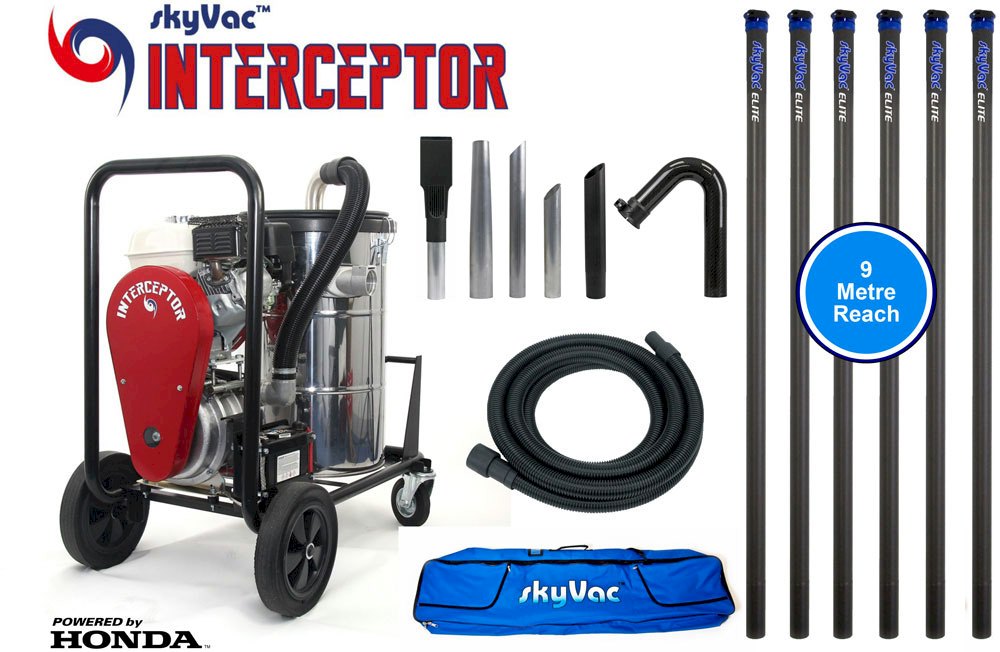 Disclaimer – product images used may differ slightly from what's supplied in the box. Please ask us for a complete product list and or product brochure before ordering.
---
Contact Us about the SkyVac Interceptor
Call our Auckland Office on +64 9 520 20 30, Wellington Office +64 4 234 1020 or use the contact form below:
Like most businesses we're social – you can follow us on: Facebook, Instagram, LinkedIn, Twitter
Follow us and we'll follow you, now that's social.