Accessories
We stock and supply a massive range of vacuum cleaner parts and accessories for most major brands.
If you need floor tools, bags and other replacement parts simply give us a call on 09 520 20 30 or 04 234 1020
You can also use our contact form to make a general enquiry.
Download in PDF format our Vacuum Parts Catalogue.
Parts
Adaptors & Belts
Batteries & Chargers
Cloth Bags
Filters
Handles & Fittings
Complete Hose
Leads
Lids, Strap & Clips
Motors & Accessories
Rods & Wands
Switches
Small Attachments
Vacuum Cleaner Bags (you can also buy them online from us here: www.vacuumbags.nz

)



Floor Tools
Combination Floor Tools
Commercial Tools
European Floor Tools
Hard Floors
Specialty Tools
Turbo & Powerheads
Wet Floor Tools
Low Profile Gulper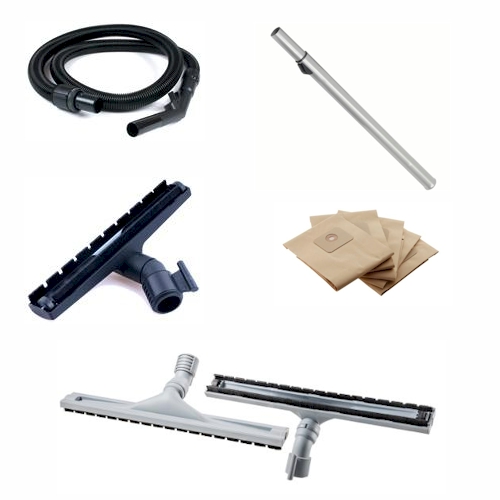 General Accessories
The accessories for your vacuum are supposed to be helpful — not confusing. But with busy lives, it's not uncommon to default to the same one all the time, or just totally skip them. Read on for the nitty-gritty on all the attachments, so you can make the most of your next cleaning session.
The Common Four

If a vacuum comes with attachments, these will be included.
1. Crevice Tool
With its skinny shape and angled tip, this one gets into the tight spots: corners, along baseboards, around radiators or vents, between sofa cushions, and more. You can also use it for cleaning refrigerator coils or de-linting the inner workings of your dryer.
2. Dusting Brush
Round with long, soft bristles, it helps whisk windowsills, bookcases, framed art, lampshades, and blinds. If your vac is equipped with variable suction, you can also use it for more delicate tasks, such as cleaning around knick-knacks.
3. Upholstery Tool
This attachment is wide and sometimes has a lint-catching fabric strip perfect for coaxing dust from sofas, chairs, mattresses, and cushions.
4. Extension Wand
This gives you more reach, and nabs dust dangling from high ceilings and corners or buried deep behind appliances. Or try this neat trick: If you've dropped something lightweight in a spot you can't reach, stretch a piece of nylon pantyhose over the end of the wand, secure it with a rubber band, and use it as a tool to retrieve your item.
---
Contact Us about Accessories
Call our Auckland Office on +64 9 520 20 30, Wellington Office +64 4 234 1020 or use the contact form below:
Like most businesses we're social – you can follow us on: Facebook, Instagram, LinkedIn, Twitter
Follow us and we'll follow you, now that's social.