Backpack Vacuums
We have a complete range of brands and models of backpack vacuums for commercial, industrial and domestic purposes. We discuss and assess your needs and give expert advice to ensure you receive the very best vacuum cleaner to suit your needs.
Looking for battery powered backpack vacuums? We stock and supply the new Vax battery powered back-pack and also the new and improved Pacvac Superpro Battery 700 model, now with 4 batteries.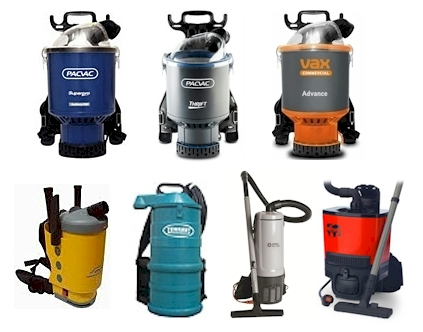 Click here to see the range of Pacvac backpack vacuums available.
Other featured backpack models
Why Use a Backpack Vacuum?
Backpack vacuums cut the vacuuming time and are great for hardwoods.
A backpack vacuum is great for stairs and hallways. Unlike traditional upright vacuums, you don't have to lug a vacuum up the stairs with your hands while you try to vacuum. Having a backpack option lets you travel up and down different floors with ease.
In a sense, it is safer because you can have one hand on the banister for support while the other hand holds your vacuum wand.
Backpacks continue to grow in popularity because they are so easy to use. Their lightweight construction allows them to be carried with ease and eliminates the need to drag around a canister or heavy upright. Customers report increased efficiency by up to 50% over traditional units. Backpacks are excellent for use in stair wells and aisles as there is no need to lift anything but the wand. With a backpack vacuum, there is no longer a need to worry about fitting your vacuum into small areas as the wands and floor tools can be maneuvered into almost any space!
The models we stock and supply are the best in the market. For quality and performance, you can't afford not to own one.
---
Contact Us about Backpack Vacuums
Call our Auckland Office on +64 9 520 20 30, Wellington Office +64 4 234 1020 or use the contact form below:
Like most businesses we're social – you can follow us on: Facebook, Instagram, LinkedIn, Twitter
Follow us and we'll follow you, now that's social.