The Smallest Dust can Pose the Greatest Threat
But no threat is too small for Nilfisk dust extractors
Protect what matters
The lungs are just as vulnerable as any other part of the body – but their protection poses unique challenges. The most dangerous dust particles can be generated from seemingly harmless materials or processes, and can be difficult to manage because of their extremely small size. But with the right extraction and filtration system in place, you can help safeguard the health of operators and future occupants.
Built with superior protection in mind, Nilfisk dust extractors are engineered to help your people breathe a little easier.
More power.
Sealed collection.
Automatic filter-cleaning.
Nilfisk extractors take care of the job – and you.
Unique dust protection
Best-in-class filtration captures at least 99.995% of fine particles, minimizing risk of dust-borne hazards.
Robust design
Built for tough work, hour after hour, day after day. Ideal for building work, construction, renovation, and other industries.
Easy service
Use the same maintenance-free filter for wet and dry pick-up, reducing maintenance requirements, cost, and downtime.
Certified efficiency
Nilfisk dust extractors are built for high-volume collection of all three dust classes: Low, Medium, and High Risk. Just select the solution appropriate to your industry and task, and Nilfisk handles the rest.
Stay focused on the job. InfiniClean™ will take care of your equipment.
Nilfisk InfiniClean™ is a high-efficiency, continuously operating, fully automatic filter-cleaning system. Just turn on the vacuum, and the system is active! Your filter is automatically cleaned every 20 seconds during operation, so you can concentrate on the task at hand without worrying about results.
Massive 'dust' fighting power with minimal footprints
Choose one of two high-performance options: the compact VHS 42, or the high-capacity VHS120. Both are easy to use, equipped with innovative and powerful filtration systems, built for extensive durability, and certified for all H-class dust-generating tasks.
Nilfisk VHS 42 M-H Class – 30 and 40 L units available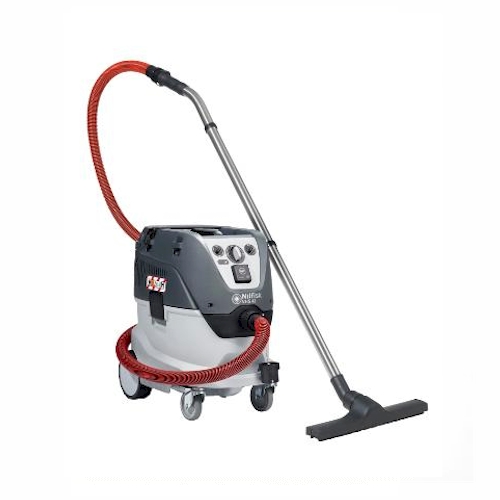 Keep hazardous dusts – and productivity – where they need to be.
Built to keep air clean in more confined environments, the VHS 42 extractor sets the standard for compact power and protection.
Powerful and safe fine dust extractor for hazardous and fine particles

The VHS 42 M/H fine dust extractor series sets a new standard for design and feature level of the Nilfisk wet & dry vacuum portfolio. With innovative filtration system, improved performance, robust design and dust class M/H certification, this range represents a superior solution for professional customers looking for a reliable machine to protect workers health and safety. VHS 42 M/H comes with more suction power, sealed dust system, automatic filter cleaning and several other user benefits – designed to meet the tough requirements in building & constructions and other industries when picking up hazardous dust.
Click here to request more information and pricing.
VHS120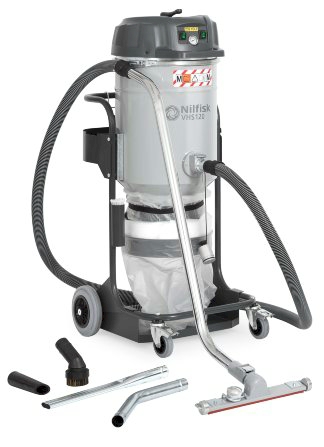 Our most powerful compact vacuum – now for hazardous dust.
The optimal single-phase solution for applications that demand high performance and compact dimensions, the VHS120 makes quick work of the most tenacious dust.
As efficient as simple, the right combination for your application: one specific model built according to each main specific segments and equipped with the best accessory kit.
Your task? Just plug and play… and continue doing your job without any thought.
The #Building & Construction vacuum cleaner is the VHS120 H Class third-party certified machine, which represents the state-of-art of industrial vacuum cleaner suitable for collecting hazardous materials.
The absolute HEPA14 filter, standard on this H Class variant, retains the finest particles, M-Class start filter with glued seams get the highest filtration efficiency, while the Longopac® system allows the easiest and safest discharge of the collected material, without coming into contact with the vacuumed hazardous dust.
The new anti-shock accessories kit, which this machine is equipped with, has been created specifically for the Building & Construction Sector, where there is the need to dissipate any static charges caused by the passage of dust.
It includes a conductive hose, a conductive cone, an antistatic round brush and a specific anti-shok nozzle with silicone lips, that can also be stored in the tool basket.
Downloads: Product Brochure / Fact Sheet
*** Check out our Nilfisk and other fine dust vacuums here ***
Need more information on Dust Vacuums?
Feel free to contact us to discuss dust vacuums. You can call our Auckland office on +64 9 520 20 30, Wellington office +64 4 234 1020 or use the contact form below:
Like most businesses we're social – you can follow us on Facebook, Instagram, LinkedIn, Twitter
Follow us and we'll follow you, now that's social.