Working with Asbestos
The Health and Safety (Asbestos) Regulations 2016 place restrictions on the work that can be done on asbestos and asbestos-containing materials.
General responsibilities
Working with it is prohibited by Regulations, except for certain specified activities:
Your duties
As a PCBU (a Person Conducting a Business or Undertaking) you must ensure that your working environment is free of airborne asbestos fibres.
Responsibilities for identifying asbestos or ACM in the workplace
If a PCBU knows, or can reasonably expect that there is a risk of exposure to respirable fibres in their workplace, it must make sure, so far as is reasonably practicable, that all asbestos or asbestos-containing material (ACM) is identified.
ACM – includes items such as concrete, window putty and stipple ceiling coatings.
If a workplace has more than one PCBU, all PCBUs must, so far as is practicable, consult, co-operate with and coordinate activities with one another to make sure they meet their legal duties. An example of this is a tenant in a commercial building communicating with the building owner.
Identifying
The first step in managing asbestos is to identify if it is present at your workplace, and there are a few ways you could choose to do this:
you could assume that your building or workplace contains it, and write your plan accordingly
you could follow the guidance in the WorkSafe Approved Code of Practice
you could choose to get your staff trained to recognise it
you can employ a surveyor to assess your building and produce your plan.
Note: If your building was built prior to 1 January 2000 it is more likely to contain this harmful material.
You must use an IANZ accredited laboratory to test samples to determine the presence of it or asbestos-containing materials at your worksite.
Read the Worksafe factsheets on where it may be found:
Managing asbestos risks
For those PCBUs that manage a workplace where asbestos has been identified there is a duty to develop a management plan by 4 April 2018.
Check out Worksafe's handy guide on management plans to find out more.
Once the plan has been developed, you must make sure that a copy of the plan for the workplace is available to:
a worker (or their representative) who has carried out, or intends to carry out work at the workplace, and
a PCBU that has required, or may require work to be carried out at the workplace – for example, a builder.
Review your plan
You must make sure that the plan is reviewed and, if necessary, revised if:
there is a review of a control measure
asbestos is removed from, or disturbed, sealed, or enclosed at, the workplace
the plan is no longer adequate for managing the asbestos or ACM risk at the workplace
a representative requests a review as detailed below
five years have passed since the plan was last reviewed.
Getting work done
If you have asbestos in your workplace, then you have some specific duties should you wish to do construction work. The duties depend on the work that you are embarking on:
Asbestos Removal Vacuums
We have a range of vacuums that can help you with safe asbestos removal, browse some here.
Do you need a vacuum that can remove and safely contain this harmful substance? Talk to the South Pacific Vacuums team today, call +64 9 520 20 30 or +64 4 234 1020, or use our contact form here to send a message with your specific needs.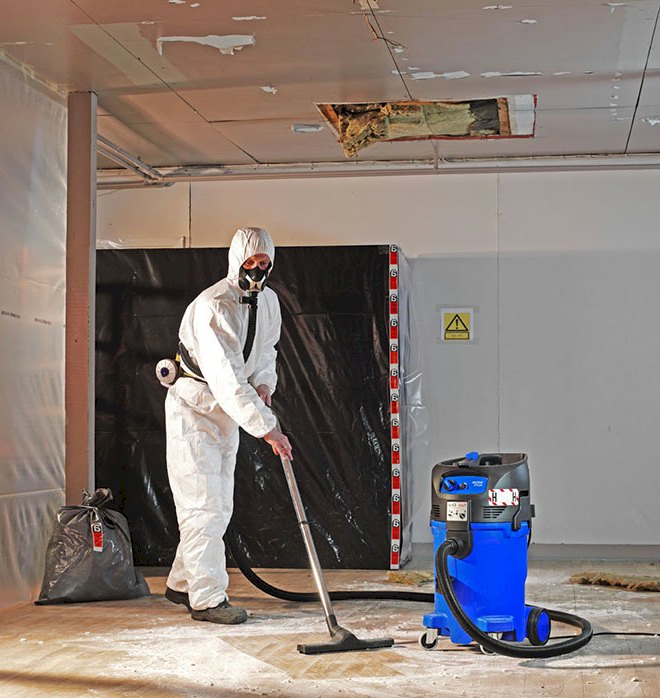 Like most businesses we're social – you can follow us on Facebook, Instagram, LinkedIn, Twitter.
Follow us and we'll follow you, now that's social.