Powder Coating Vacuums
Powder coating is the preferred finishing technique for consumer and industrial goods, thanks to its durability, economy, and quality.
However, the powder itself may present serious health and safety risks when stored, conveyed, and applied to products. Under the right conditions, one such risk is the high possibility of combustible dust explosions. An additional risk associated with improper handling of powder dust includes inhalation of particles by workers. It is crucial to ensure that proper housekeeping procedures are put in place and followed on a regular basis to mitigate these risks.
Due to Health & Safety guidelines requiring facilities to perform a comprehensive dust hazard analysis and develop a plan to deal with these risks, manufacturers and factory owners now need specialised tools to meet regulations and minimize these hazards.
HafcoVac's certified, explosion-proof industrial vacuums present an intrinsically safe solution for powder coating clean-up. They offer excellent suction regardless of the dust's location — whether the paint particles are on overhead beams, machinery, walls or floors.
In this article, we will learn more about powder coating, the potential risks that come with it and how we can help prevent them with the right vacuum supplied by South Pacific Vacuums.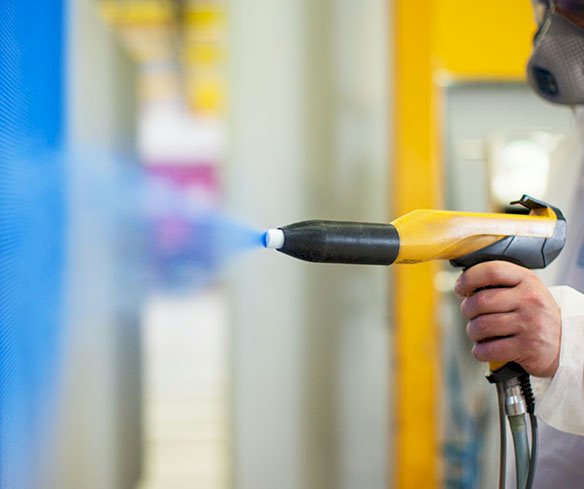 What Is Powder Coating?
Powder coating is one of the most in-demand paint application techniques for manufacturers of industrial and consumer appliances. In fact, the appliance industry acquires the largest share of the powder coating market, amounting to two-fifths of all industrial powder coated parts.
The powder coating process involves spraying paint in the form of powder on top of binders and pigments that are sprayed directly onto the surface. In contrast, liquid paint has binders and pigments present in solvent. The inclusion of binders and pigments in liquid paint results in longer drying times, which can also vary depending on atmospheric conditions.
Once the powder coating spraying is completed, the item must be baked to a certain temperature for a set amount of time. Called curing, the duration of this process is different for different types of powder. Next, the powder is heated to a high temperature in order for the powder to melt. Once melted, the object is cooled for a hard and durable finish.
Several types of materials including plastics, metals, medium-density fiberboard (MDF) and glass can be powder coated. Similarly, many types of textures and finishes that are not possible with liquid coating methods can be achieved with powder paint.
Here are some advantages of powder coating:
More durable compared to liquid coating
Better and thicker finish
Low environmental impact
Less waste
Efficient curing and drying process
Risks Associated With Powder Coating
As mentioned, the biggest risks related to powder coating are fire and dust explosions, followed by dust particle inhalation.
A dust explosion occurs when there is powder accumulation in different parts of a factory or site. If introduced to a source of ignition, it can result in its rapid combustion.
One possible source of ignition is static electricity. This can build up when a vacuum has no grounding to dissipate the static charge generated by the unidirectional flow of the powder debris through the cleaning hose.
If this ungrounded hose comes in contact with a grounded object, the consequence can be a deadly explosion.
That's why as a standard it is recommended that your vacuum control static electricity, including bonding of equipment to ground.
The rapid combustion of powder coating dust is known to have caused several fires that have resulted in serious damage to the factory and led to pricey shutdowns.
Considering the extent of damage that combustible dust can cause, it is important to use vacuums specially designed to eliminate the risk.
Why Vacuums Are Necessary
With powder coating, the inclusion of an explosion-proof vacuum that can safeguard both workers and the workplace by reducing the possibility of a dust explosion is an essential part of any housekeeping procedure.
As such, it's important to select a vacuum that is durable and reliable and can efficiently draw up powder from different surfaces. One key element of a vacuum is its filtration system; a good model can clean up powder efficiently without exhausting fine dust into the air. Look for one that has a HEPA filter.
HEPA filters are 99.8% effective at keeping fine dust particles from entering the air. That results in cleaner air and a cleaner workplace, reducing the explosion risk. HEPA filters are the ideal choice for vacuuming fine dust.
Many people opt for standard vacuums or Shop-Vacs to pick up powder without realizing that they have limited filtration capacity and motor quality. As such, they do more harm than good and need to be replaced multiple times a year. Some even produce a static charge that could result in the combustion of the dust. Instead, look for one that is fully grounded and bonded to ensure static charges can't become an ignition source.
Benefits of Selecting the Right Vacuum
Here are some benefits of selecting a certified, intrinsically safe vacuum:
Filtration system with HEPA filters that is 99.8% effective at keeping fine dust particles from entering the air
Properly grounded and bonded to eliminate the possibility of static shock
Virtually eliminates the chance of explosion by trapping combustible dust.
Compressed Air Powered Vacuums
Our vacuums perform proficiently in environments where compressed air is available and use of electric equipment is less desirable due to the combustible dust hazard.
HafcoVac vacuums are multipurpose and can meet the cleaning needs of multiple types of industries. They are certified explosion-proof and intrinsically safe in order to clean and extract combustible dust, and other dry and wet materials, from industrial facilities without letting particles escape into the air.
Nilfisk VHS 120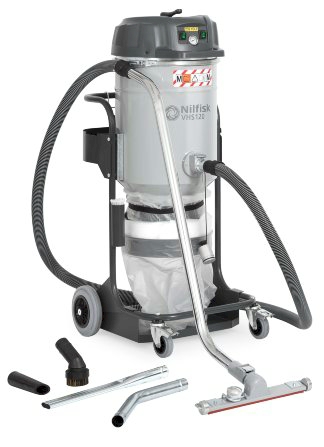 As efficient as simple, the right combination for your application: one specific model built according to each main specific segments and equipped with the best accessory kit. The Nilfisk VHS 120 can handle the needs of the powder coating industry, along with many other vacuums we can supply.
Your task? Just plug and play… and continue doing your job without any thought.
The Building & Construction vacuum cleaner is the VHS120 H Class third-party certified machine, which represents the state-of-art of industrial vacuum cleaner suitable for collecting hazardous materials.
The absolute HEPA14 filter, standard on this H Class variant, retains the finest dust, M-Class start filter with glued seams get the highest filtration efficiency, while the Longopac® system allows the easiest and safest discharge of the collected material, without coming into contact with the vacuumed hazardous dust.
The new anti-shock accessories kit, which this machine is equipped with, has been created specifically for the Building & Construction Sector, where there is the need to dissipate any static charges caused by the passage of dust.
It includes a conductive hose, a conductive cone, an antistatic round brush and a specific anti-shok nozzle with silicone lips, that can also be stored in the tool basket.
Downloads: Product Brochure / Fact Sheet
Click here to request more information and pricing for a Powder Coating vacuum.
Like most businesses we're social – you can follow us on: Facebook, Instagram, LinkedIn, Twitter
Follow us and we'll follow you, now that's social.