Filtration Classes with Vacuums
Having been a grey area in many industries for quite some time we hope to clear up some of the myths surrounding correct vacuum filtration classes based on Worksafe's current guidelines.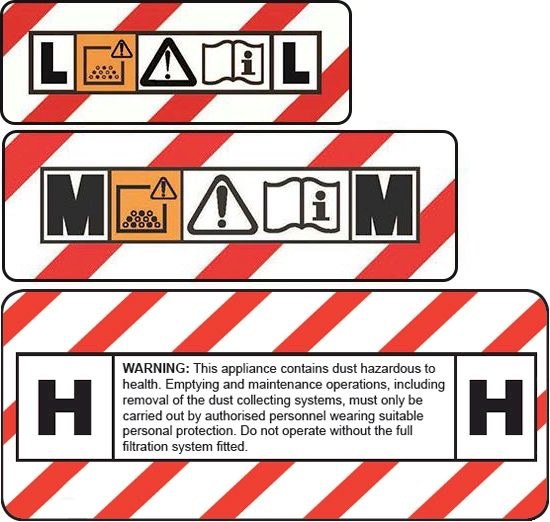 Vacuums come in three main classes that represent their level of filtration. The required minimum class for each use-case is set out by Worksafe's guidelines. We have compiled the below list to spell out which classes are used for a variety of tasks that we are often asked about.
L, M and H Filtration Classes
The three classes are 'L', 'M' and 'H' (Low, Medium and High Hazard).
Class 'L' – Dust represents a moderate risk to the operators – The vacuum's filters trap over 99% of the dust with a grain size of under 2 microns
Class 'M' – Dust represents a medium risk to the operators – The vacuum's filters trap over 99.9% of the dust with a grain size of under 2 microns
Class 'H' – Dust represents a high risk to the operators – The vacuum's filter traps over 99.995% of dust with a grain size of under 1 micron which includes carcinogenic dusts and dusts contaminated with pathogens
H-Class Filtration
Common uses for the highest level of filtration include, but is not limited to, Silicia Dust and asbestos.
Silicia Dust (e.g. Concrete grinding)
"Use an H-class HEPA-filtered vacuum cleaner in accordance with Standard AS60335-2-69."
Asbestos
"A vacuum cleaner for cleaning asbestos contaminated material should comply with AS 3544 Industrial Vacuum Cleaners for Particulates Hazardous to Health and must be labelled with a high hazard 'H' class symbol and the words 'For asbestos use only'."
M-Class Filtration
Lead Dust
In their booklet titled "Guidelines For The Management Of Lead-Based Paint" Worksafe say "Use a HEPA vacuum cleaner to remove dust traces from the work area and surroundings…"
Our suppliers recommend M-Class vacuums with an added HEPA filter such as the Starmix iPulse or Festool CTM26 (with appropriate added HEPA filters) for managing Lead dust. This includes on-tool dust extraction and site cleanup etc.
L-Class Filtration
L-Class filtration is generally considered acceptable for plaster dust and sawdust from woodworking in most circumstances. This includes, for example, vacuums connected to drywall sanders and circular saws.
Additional Information on Filtration Classes
Fine dust can clog filters quickly – consider buying vacuums with the built-in vibrating auto-clean feature
Ensure vacuums have enough capacity for the task and are emptied regularly and safely
Use the correct disposable vacuum bags and ensure they are disposed of appropriately
Ensure power-tools connected to the vacuums have the appropriate dust hoods and correct consumables such as matching sanding disks etc
Ensure operators wear the correct PPE such as dust masks (with correct rating), gloves and safety glasses where required
Need more information? Feel free to contact us to discuss your requirements. You can call our Auckland office on +64 9 520 20 30, Wellington office +64 4 234 1020 or use the contact form below:
Like most businesses we're social – you can follow us on: Facebook, Instagram, LinkedIn, Twitter
Follow us and we'll follow you, now that's social.