Nilfisk SC100
The Nilfisk SC100 is a small scrubber dryer for in-depth cleaning of narrow areas. Compared to the manual solution of mop and bucket – this compact upright machine will get the job done much faster offering a superior cleaning performance.
The machine can be use both forward and backwards as the suction squeegees are located both before and after the brush. Washing and drying are done in one pass, so the area will be ready for use immediately after cleaning.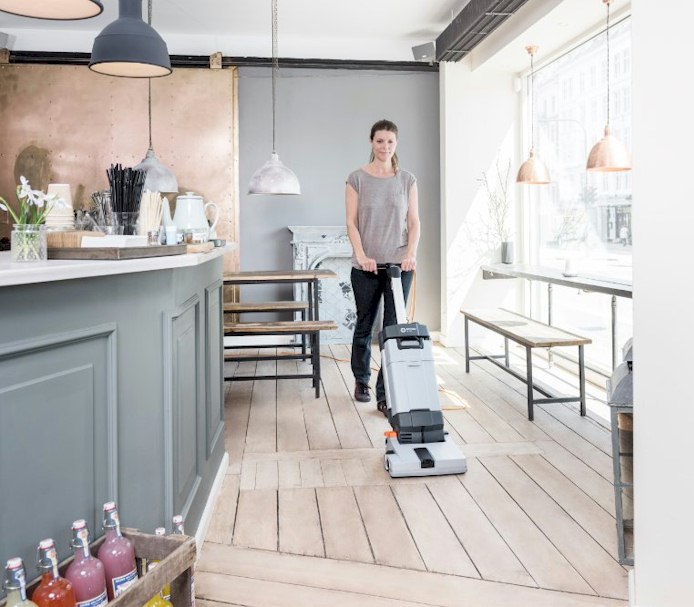 SC100 Great Value for Money
The value-for-money choice for small shops, schools, restaurants, coffee shops, gas stations, bakeries, fast food chains, hotels, cleaning companies, and also in-home cleaning.
Easy, Fast & Productive Cleaning
Scrub and dry in one single pass giving fast access to the cleaned area
Two solution flow settings for efficient cleaning and red LED light indicator alarms when out of solution
Ergonomic handle for comfortable one or two handed operation
Easy to carry and to transport from one place to another – the SC100 weighs only 12 kg
SC100 – Safe & Hygienic Environment
Only use clean solution: no dirt and bacteria spread everywhere on the floor
Flat recovery tank design and full access makes it fast and easy to clean 100% of the recovery tank from any dirt
Can do what others cannot: Low deck profile and offset allow to clean difficult to reach areas for real floor cleaning
Easy and quick maintenance operations help the SC100 operator to always have a clean and functional machine
Reduced Total Cost to Clean
Flexible cleaning: Eco flow for light cleaning and double flow for spot or hard cleaning
All SC100 machine functions stop in upright position
No brush or squeegee on the floor and no solution spill when the machine is not in use
Robust aluminum frame design guarantee high reliability and long life time
Detergent dosing cap on solution tank to always have the right percentage of detergent
Click here to request more information and pricing.
---
Contact Us about the Nilfisk SC100
Call our Auckland Office on +64 9 520 20 30, Wellington Office +64 4 234 1020 or use the contact form below:
Like most businesses we're social – you can follow us on: Facebook, Instagram, LinkedIn, Twitter
Follow us and we'll follow you, now that's social.