Gutter Cleaning Importance
Regular gutter cleaning is crucial to maintaining a good home.
A gutter clogged with leaves, sticks and other debris can cause a leaky roof or water damage to the interior or exterior of your home. Contractors say gunked-up gutters also make nice homes for pests, rodents, mold and honeycombs from bee infestations etc.
Professional Cleaning
After using a vacuum say from the SkyVac range to remove large chunks of debris, a professional may do some scrubbing with a mechanical brush, washing with steam cleaners and polishing by hand to remove moss, black marks and algae that often appear on gutter fronts. In addition to gutter cleaning, they may offer services to repair seams or reattach your gutters or downspouts.
SkyVac 75 – tackle those gutters yourself
The SkyVac 75 is a commercial-grade wet and dry vacuum that provides a portable, safe and OHS compliant way to clean commercial and domestic gutters. With two motors and powerful suction, it has the ability to quickly eat away at moss, mud and debris that build up over time in gutters.
For more serious jobs the SkyVac 85 is perfect – it's the worlds most powerful mains powered free-standing gutter cleaning machine, suitable for Industrial and Domestic Gutter Cleaning, Wet or Dry application.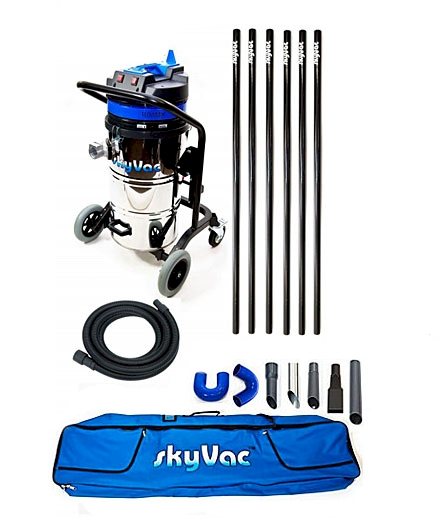 All of the SkyVac range comes with a pack of long reach poles. Plus we stock and supply a full range of accessories and extra poles if needed.
General Range
Apart from the extensive SkyVac range, we also have a general-purpose brand that is a little more affordable and does a great job. Check out this gutter vacuum brand here.
Other options
Gutter guards can do a very good job of keeping gutters flowing freely. If you have big trees in your yard, gutter guards really will save you time and nasty work by helping to prevent your gutters from getting clogged.
How long should it take to clean my gutters?
Average times for gutter cleaning and whitening depend on the home's size and levels of filth, but most power washing contractors take between 30 minutes and up to 3 hours to clean gutters completely.
Doing it yourself – Eight Gutter Cleaning Tips
Let someone know you are cleaning your gutters
Use a safe and secure ladder
Rake leaves and other debris off the rooftop first
Wear rubber-soled shoes when walking on the rooftop
Use a plastic gutter scooping tool for gutter cleaning
Wear gloves and proper eyewear
Unclog downspouts
Watch out for hazardous power lines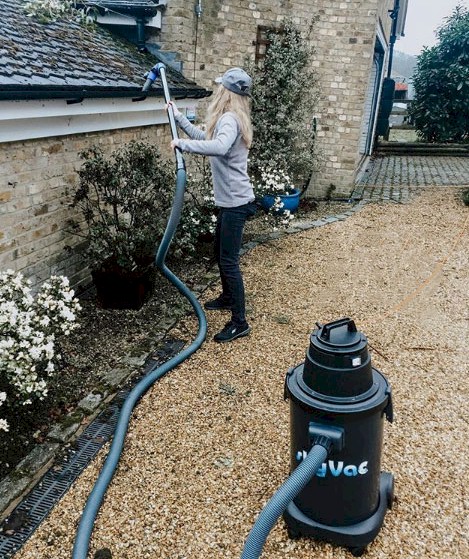 Gutter Cleaning Vacuums
While there are many different vacuums on the market for gutter cleaning, they don't all offer the same quality. For the safest and most effective vacuums, such as the SkyVac range talk to us so you get the right vacuum to clean your gutters.
Feel free to contact us to discuss your gutter cleaning requirements. You can call our Auckland office on +64 9 520 20 30, Wellington office +64 4 234 1020 or use the contact form below:
Like most businesses we're social – you can follow us on: Facebook, Instagram, LinkedIn, Twitter
Follow us and we'll follow you, now that's social.